The following items are for sale, payment by friends and family PayPal or money order (I'd rather not pay fees), or cash if locally. Local pick up is in the Tampa Bay Area of Florida.
Blackend Engine dampener, own a piece of Legend history (most recent version, slightly used, might be missing one bolt)
$180 Shipped
OEM Coupe Fog Light Kit (used, includes fog lights, Coupe brackets, Coupe bumper inserts, both internal/external wire harnesses , non-traction control fog light switch)
SOLD
ACT 6 Puck Clutch & Lightened Flywheel, ARP Flywheel bolts (or brand new OEM bolts) plus throwout bearing (everything is brand new)
$1600 OBO + shipping or local pick up.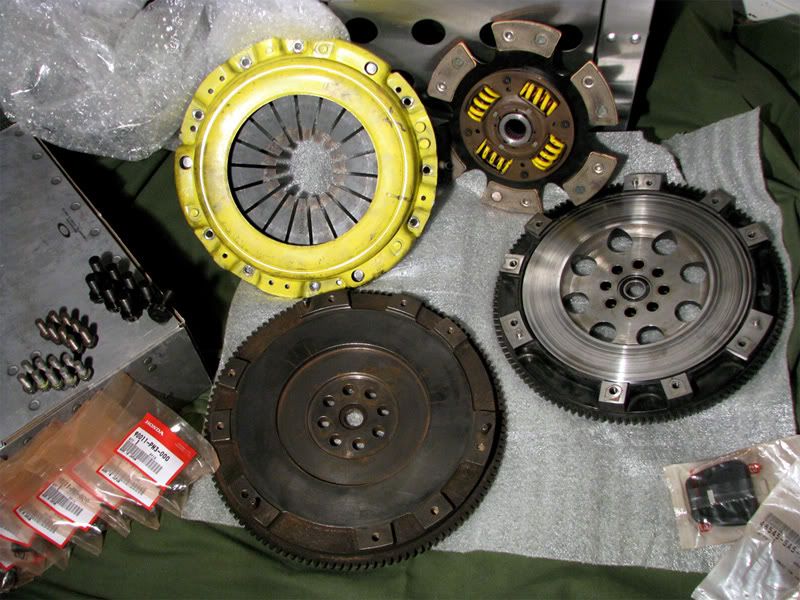 Telion Coupe Rear upper strut-tower bar (used, this is the one you'll need to drill holes into sheet metal for instal)
$120 + shipping
Telion Rear lower tie bar set (two bars - used)
$220 + shipping
SOLD
Manual Conversion Parts/5 speed transmission (everything but the differential, mileage/ internal condition unknown, pulled form a junk yard years ago, stored inside. I would prefer local pick up so buyer can inspect as all components are used)
$600 + shipping or local pick up.
Steel Auto to Manual Conversion Tranny Spacer (never used)
SOLD
KHrant Coupe Floor Mats, Black with "Legend" in blue. Like New (driver mat may have a light foot imprint from a few meets), just dusty.
$350 + shipping
I can text photos to anyone interested, just PM me your phone number and what you want to see. Photobucket no longer seems to be working as well as it used to and I don't know what a good, free, photo hosting site is these days.